A Request for Quotation (RFQ) is a method of soliciting offers from suppliers for customer's requirements for suppliers or services that fit within the dollar amount for supplies or services;  >$3000.  This is used when the aggregate amount involved in any one transaction is relatively small. The FAR allows an RFQ for government-unique items to be used for Purchase Orders (PO) that do not exceed the simplified acquisition threshold of $100,000. For commercial items, these procedures using RFQ may be used up to 5.5 million dollars. An RFQ is part of FAR Part 13 – Simplified Acquisition Procedures.
Definition: A Request For Quotation (RFQ) is a method where an acquiring organization solicits bids and price quotes from suppliers and contractors for a project or task.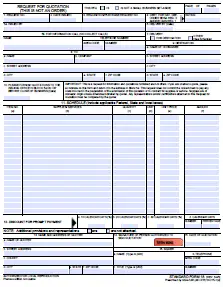 The Benefits of a Request for Quotation (RFQ) include:
Bids are gathered in a formal, structured, and comparable way.
Suppliers understand that there is a competition going on.
You show that you try to act without a prejudice or with a preferred supplier.
You get a formal reply from the suppliers on price and quantity
The Request for Quotation (RFQ) in the Solicitation Process
A Request for Quotation is primarily used in the solicitation process for items that fall under Simplified Acquisition Procedures. It is used to determine the availability of commercial products and services at the best market price and selection.
An RFQs are therefore seldom the final stage and are instead often used in combination with the following for a contract solicitation:
Request for Proposal (RFP): is a solicitation used in negotiated acquisition to communicate government requirements to the prospective contractors and to solicit proposals.

Request for Information (RFI)

: is a standard business process whose purpose is to collect written information about the capabilities of various suppliers.

Request for Technical Proposal (RFT)

: is a solicitation document used in a two-step sealed bid. Normally in letter form, it asks only for technical information; price and cost breakdowns are forbidden.

Request for Tender (RFT):

is a formal and structured invitation to suppliers to submit competitive bids to supply raw materials, products, or services.
How to Write a Request for Quotation (RFQ)
The key to writing a good Request for Quotation is to start with knowing the product or services you want to obtain from suppliers. Having a complete understanding of the product or services will allow you to obtain the best bid information possible.
Step 1: Prepare the RFQ Form and Letter: The contracting office should fill out a bid form and provide details on supplies or service s that are needed. Along wit a bid form is included a supplier letter.
Step 2: Determine Possible Supplies: Do some market research to determine how many suppliers can fulfill bids.
Step 3: Send to Possible Suppliers: The RFQ is submitted to the industry. In the government, the RFQ would be submitted to the System of Awards Management (SAM)
Step 4: Receive Quotations: Getting the Bids in
Step 5: Select Best Supplier: Choose the supplier with the best benefit.
Step 6: Inform Those Not Selected: Inform suppliers not chosen so they can improve for the next time
What is Contained in a Government Request for Quotation (RFQ)
Confidentiality
Name
Address
Item
Services
Unit Price
Discount
The Goals of a Well Written Request for Information (RFQ)
The goal of any RFQ is to make sure they obtain the information they seek to help in decision-making. Below is a list of key elements that will help see if the RFQ you have developed will achieve this:
Does it request the information that is needed from suppliers
Will it be easy to compare the information obtained
Is there a clear format for response
Is there a timeframe presented
AcqLinks and References:
Updated: 5/12/2021
Rank: G17