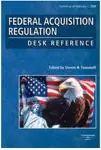 The Federal Acquisition Regulations (FAR) is the primary regulation for use by all Federal Executive agencies in their acquisition of supplies and services with appropriated funds. It became effective on April 1, 1984, and is issued within applicable laws under the joint authorities of the Administrator of General Services, the Secretary of Defense, and the Administrator for the National Aeronautics and Space Administration, under the broad policy guidelines of the Administrator, Office of Federal Procurement Policy, Office of Management and Budget. [1]
The FAR precludes agency acquisition regulations that unnecessarily repeat, paraphrase, or otherwise restate the FAR, limits agency acquisition regulations to those necessary to implement FAR policies and procedures within an agency, and provides for coordination, simplicity, and uniformity in the Federal acquisition process. It also provides for an agency and public participation in developing the FAR and agency acquisition regulation.
The FAR is divided into 53 parts, organized into 8 Subchapters designated A through H. Each part is then divided into subparts, sections, and subsections, with further divisions below the subsection level.
The largest single part of the FAR is Part 52, which contains standard contract clauses and "solicitation provisions." Solicitation provisions are certifications, notices, and instructions for firms that plan to compete for a specific contract. Many contract clauses incorporate parts of the FAR into government contracts by reference, by which means they impose FAR rules on contractors. [2]
Defense Federal Acquisition Regulation Supplement (DFARS)
Many agencies have supplements to the FAR which provided more specific guidance to that organization. The Department of Defense (DoD) uses the Defense Federal Acquisition Regulation Supplement (DFARS).
AcqTips:
The most current copy of the FAR can be obtained by visiting the FAR Home page.
AcqLinks and References:
Updated: 6/8/2021
Rank: G8