A Work Package (WP) is a natural subdivision of a Control Account (CA). A work package is simply a task/activity or grouping of work and is the point at which work is planned, progress is measured, and earned value is computed. It can be translated into different terms in different companies and functions. It can be a design job, a tool design package, a build-to-package, a shop order, a part number, a purchase order, or any other definable task/activity at whatever level of control is normal for program management within the company.
Definition: A work package is a group of related tasks within a project.
Purpose of Work Packages
A work package is a work breakdown structure component that enables project managers to specify the actions required to complete the work.
Benefits of Work Packages
What are the main benefits of developing and utilizing work packages in your program? Here are a few of them:
Work packages help break up big projects into smaller tasks that are easier to handle.
They also help with creating the WBS. After you divide the work packages into activities, you put all of the activities on an "activities list." This lets you make your project schedule and budget.
Show what work has been completed. A Responsibility Assignment Matrix (RAM) with a detailed schedule and list of tasks can help your team see what they need to do and when.
Easier Estimates. Small projects are much easier to plan for in terms of time, staffing, costs, and materials. How could you figure out how much a banquet would cost if you didn't know how much things like paper forks and dinner rolls cost?
Parallel Activity. You can identify concurrent project activity chances by breaking up work packages. Multiple teams can complete different tasks at once.
What Data is Included in a Work Package
There can be very important information that comes in a work package. Each work package is linked to a small piece of the bigger project management data:
Cost: You need a budget to show how much money is set aside for this package. It's also important to keep an eye on prices and ensure the project doesn't cost more than planned.
Deadlines: This gives project managers a base schedule against which they can measure how the work is going.
Risks: You must figure out what the risks are and make a plan to deal with them. You also need to keep track of progress so problems can be found quickly and fixed.
Responsibility: Who is responsible for managing and tracking a particular work package.
Work Packages in the Work Breakdown Structure (WBS) Example
Work packages come in various formats, but the Work Breakdown Structure (WBS) is the most common format. Below is a WBS, and the work packages are at the bottom level.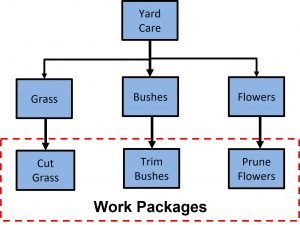 Work Packages in Earned Value Management
In earned value management projects, work packages are used to combine data from schedule, cost, and scope management to measure how well the project is going.
Work Packages in Program Management
Below is a list of the main work packages used on a program or project. These items allow the program manager to more efficiently manage the work needed to meet goals and objectives.
Work Breakdown Structure (WBS): Work packages are the smallest unit of work and the lowest level that a project can be broken down into to develop a Work Breakdown Structure (WBS).
Planning Packages (PP): A logical aggregation of work, usually a future effort that can be identified and budgeted, but which is not yet planned in detail at the work package level.
Integrated Master Schedule (IMS): contains all the detailed discrete work packages and planning packages (or lower-level tasks/activities) necessary to support the events, accomplishments, and criteria of the IMP (if applicable). [1]
Program Critical Path: is a sequence of discrete work packages and planning packages (or lower-level tasks/activities) in the network that has the longest total duration through the contract or program is calculated by the schedule software application.  Discrete work packages and planning packages (or lower-level tasks/activities) along the critical path have the least amount of float/slack (scheduling flexibility) and cannot be delayed without delaying the finish time of the entire work effort.
Budgeted Cost for Work Scheduled (BCWS): is the sum of the performance budgets for all work scheduled to be accomplished with a given time period.  This includes detailed work packages, planning packages, AE, plus Level of Effort (LOE) packages. [1]
Budgeted Cost for Work Performed (BCWP or Earned Value): is the value of completed work expressed as the value of the performance budget assigned to that work.  This is equal to the sum of the budgets for completed work packages, completed portions of open work packages, AE earned on the base accounts and the value of LOE activities.

[1]
Difference Between Work Packages and Schedule Activity
A work package is not the same as an activity in a project, though. In the WBS hierarchy, a work package is higher than an activity.
AcqLinks and References:
Updated: 11/26/2022
Rank: G43.1