A Responsibility Assignment Matrix (RAM) describes the participation of various organizations, people, and roles in completing tasks or deliverables for a project. It's used by the Program Manager (PM) in clarifying roles and responsibilities in a cross-functional team, projects, and processes. A Request for Proposal (RFP) might request a RAM from a contractor.
Template: Responsibility Assignment Matrix (RAM) Template (Excel)
A RAM is also called a Responsible, Accountable, Consulted, and Informed (RACI) matrix. The PMBOK Guide 4th Edition defines RACI as a RAM that is used to illustrate the connections between work packages or activities and project team members. On larger projects, RAMs can be developed at various levels.
Responsible (R): Those who do the work to achieve the task. There is typically one role with a participation type of Responsible, although others can be delegated to assist in the work required.
Accountable (A): The one ultimately accountable for the correct and thorough completion of the deliverable or task, and the one to whom Responsible is accountable. In other words, an Accountable must sign off (Approve) on work that Responsible provides. There must be only one Accountable specified for each task or deliverable.
Consulted (C): Those whose opinions are sought; and with whom there is two-way communication.
Informed (I): Those who are kept up-to-date on progress, often only on completion of the task or deliverable; and with whom there is just one-way communication.
A RAM can define what a project team is responsible for within each component of the Work Breakdown Structure (WBS). It could also be used within a working group to designate roles, responsibilities, and levels of authority for specific activities. The matrix format shows all activities associated with one person and all people associated with one activity. This ensures that there is only one person accountable for any one task to avoid confusion.
A RAM is displayed as a chart that illustrates the interaction between work packages that need to be done and project team members. Typically, the list of objectives is on the left-hand column with the project team member names across the top. Each work package will be assigned to the appropriate project team member. The chart aids in communication amongst the project team members. Below is a common RAM format.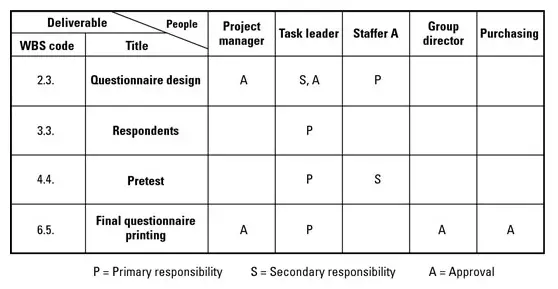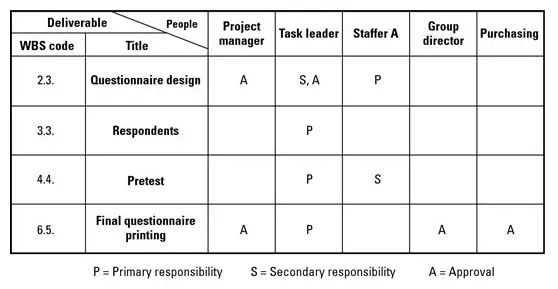 6 Steps to Developing a RAM Chart
Below is a list of the 6 (six) most common steps in developing a Responsibility Assignment Matrix. 
Step 1: List all project tasks

Step 2: Identify all project stakeholders

Step 3: Determine responsible and accountability level for each task 

Step 4: Assign stakeholder to each task

Step 5: Assign overall stakeholder

Step 6: Ensure all stakeholder know their responsibility 
An Effective RAM Chart
Below is a list of topics that can help Program Managers effectively use a Responsibility Assignment Matrix. 
One stakeholder in charge per task.

The least amount of people accountable, the better. 

Be Efficient with Meetings.  

Constant Communication. 
AcqLinks and References:
Updated: 5/4/2021
Rank: G2