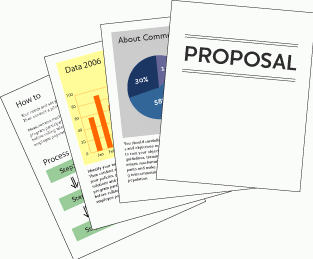 A business proposal is a written offer from a seller to a prospective buyer as part of the process of obtaining business. In the Government, a Request for Proposal (RFP) is developed when the Government need to purchase goods and services from industry. An RFP gives companies the opportunity to compete for these goods and services with their own "seller's" proposal (see Proposal Development Process). The goal of a seller's proposal is to put the Governments requirements in a context that favors their goods and services and educates the buyer about their capabilities in satisfying the needs and requirements. The main components in a government RFP include:
There are three (3) types of proposals:
Solicited: Proposals are written in response to published requirements, contained in a Request for Proposal (RFP), Request for Quotation (RFQ), Request for Information (RFI) or Request for Technical Proposal (RTP).
Unsolicited: Proposals received by the government from a contractor that is not in response to published RFI or RFP. (FAR Subpart 15.603 – Unsolicited Proposals)
Informally Solicited: Proposals are typically the result of conversations held between a vendor and a prospective customer.
Other topics DoD Program Managers (PM) and contractors should be aware of include:
The professional organization devoted to the advancement of the art and science of proposal development is The Association of Proposal Management Professionals.
AcqLinks and References:
Updated: 5/24/2018