The Continuous Improvement Process (CIP) is an ongoing effort to improve products, services, or processes. It's a six-step systematic approach to plan, sequence, and implement improvement efforts using data and elaborates on the Shewhart Cycle (Plan, Do, Study Act). The CIP provides a common language and methodology which enables understanding of the improvement process. The CIP always links back to each organization's own goals and priorities.
Definition: Continuous improvement is the act of continually looking to improve upon a process, product, or service through small incremental steps.
Why Use a Continuous Improvement Process (CIP)
Implementing a Continuous Improvement Process in an organization should be standard practice now. Studies have shown the main benefits of a CIP are:
Increase productivity
Better teamwork and morale
Greater agility
Less waste
More efficiency
Increase customer satisfaction
Increase in profit
Phases of the Continuous Improvement Process (CIP)
There are four phases associated with the CIP. These phases are associated with the Shewhart Cycle:
Phase 1 "Plan": Plan for change and identify improvement opportunities.
Phase 2 "Do": Implement changes identified.
Phase 3 "Study": Check to determine if the change had the desired outcome.
Phase 4 "Act": If successful, implement it across the organization and process.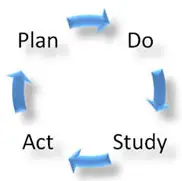 Continuous Improvement Process Tutorial
The Six (6) Steps of the Continuous Improvement Process (CIP)
Step 1: Identify Improvement Opportunity: Select the appropriate process for improvement.

Evaluate Process:
Select a challenge/problem

Step 2: Analyze: Identify and verify the root cause(s).
Step 3: Take Action: Plan and implement actions that correct the root cause(s).
Step 4: Study Results: Confirm the actions taken to achieve the target.
Step 5: Standardize Solution: Ensure the improved level of performance is maintained.
Step 6: Plan for the Future:

Plan what is to be done with any remaining problems
Evaluate the team's effectiveness Set a target for improvement
The Best Time to Start a Continuous Improvement Process (CIP)
There is no bad time to start using a continuous improvement process but the sooner the better. Below is a list of the times I believe a CIP should be implemented:
Beginning of a new project
Development of processes and procedures
Developing a new or improved product, or service
Planning data collection and analysis
Implementing any change to a process
Whenever a failure occurs
Tools that can be used to help with the Continual Improvement Process (CIP) are:
Flowcharts
Affinity Diagram
Pareto Chart
Cause and Effect Diagram
Scatter Diagram
Check Sheet
Process Capability Index and Ratio
ISO 14000
Other Methods of Continuous Improvement
There are other methods for continuous improvement. A few of these methods are Six Sigma, Lean Manufacturing, and Total Quality Management (TQM). Each of these methods helps program personnel improve products, services, or processes by reducing variation, defects, and cycle times.
AcqLinks and References:
Updated: 6/23/2023
Rank: G4