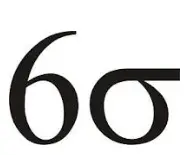 Six Sigma seeks to improve the quality of process outputs by identifying and removing the causes of defects (errors) and minimizing variability in manufacturing and business processes. The goal of six sigma is to produce a process where 99.99966% of the products manufactured are statistically expected to be free of defects (3.4 defects per million). To do this it uses a set of quality management methods, including statistical methods, and creates a special infrastructure of people within the organization who are experts in these methods.
Definition: "Six Sigma is a quality program that, when all is said and done, improves your customer's experience, lowers your costs, and builds better leaders." — Jack Welch
The three (3) basic elements of Six Sigma are:
[1]
Process improvement
Process design/re-design
Process management
Six Sigma methodology addresses variability in design, production, services, processes, and measurement. Decreasing a process's variability increases control and predictability of the process, resulting in increased quality, reliability, and performance while reducing cost.
There are four (4) main sources of process variation:
Poor design: resulting from bad design practices, unrealistic or unclear requirements, and requirement shift and creep
Variation in a manufacturing process: due to varying manpower levels, work methods and ethics, environmental factors, training, and machine wear
Variation in measurement: systems due to improper calibration and implementation
Variation in parts and supplies: from vendors and subcontractors
Six Sigma five (5) phases during a project are:
Design: the team identifies the problem and project scope.
Measurement: the team identifies critical characteristics, maps the value stream and validates a measurement system.
Analysis: the team determines the current process capability and causal relationships in the process and identifies variability.
Improvement: the team conducts experiments , identifies variable relationships and takes corrective action.
Control: the team monitors performance, determines the new process's capability and analyzes the process to identify and eliminate potential mistake activities.
Lean Six-Sigma
In the DoD there is an initiative called Lean Six Sigma. It's a developing management concept that blends Lean Manufacturing principles with 6 Sigma tools; see DAU Lean-Six Sigma Continuous Learning Module.
AcqLinks and References:
Updated: 7/18/2021
Rank: G