The Defense Planning/Programming Guidance (DPG) is used to lead the overall Planning Phase of the Planning, Programming & Budget Execution (PPBE) Process and consolidates force development planning priorities into a single overarching document for DOD planners to use.  The DPG reflects the President's National Security Strategy (NSS), the SECDEF's National Defense Strategy (NDS), and the Chairman's National Military Strategy (NMS). It also reflects the results of the Quadrennial Defense Review (QDR), and the annual Chairman's Program Recommendations (CPR). [1]
Definition: The Defense Planning Guidance establishes DoD's force development planning and resource priorities in order to prevail in the Nation's current operations and to develop a balanced joint force to meet future contingencies.
Defense Planning/Programming Guidance (DPG) Classification
The DPG is classified SECRET.
Defense Planning/Programming Guidance (DPG) Purpose
The purpose of the DPG is to provide guidance in the form of goals, priorities, and objectives, including fiscal constraints, for the development of each Military Departments Program Objective Memorandum (POM) and Budget Estimate Submissions (BES).
Where Defense Planning Guidance (DPG) fits into the PPBE Process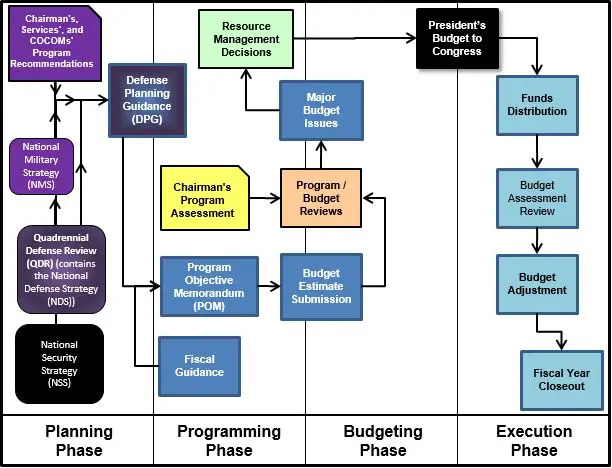 Figure: Planning Phase of the PPBE Process
Budget Preparation Schedule
Defense Planning Guidance (DPG) History
In 2010 the DPG replaced the Guidance for the Development of the Force (GDF) and the Joint Programming Guidance (JPG).
AcqTips
Defense Planning Guidance is also called Joint Planning Guidance
Updated: 7/11/2021
Rank: G3