The DoD Business Capability Acquisition Cycle (BCAC) is a process that seeks to develop and implement business/acquisition processes to acquire systems more efficiently. The process facilitates changes in the process through doctrine, organization, training, materiel, leadership and education, personnel, facilities, and policy to drive performance improvements, efficiencies, and effectiveness. BCAC aligns commercial best practices and minimizes the need for customization of commercial products to the maximum extent possible. BCAC is part of the Defense Business System and the Adaptive Acquisition Framework.
Definition: The Defense Business System is a pathway in the Adaptive Acquisition Framework that is used to acquire information systems that support DoD business operations. This pathway applies to defense business capabilities and their supporting business systems, including those with "as-a-service" solutions to include: financial and financial data feeder; contracting; logistics; planning and budgeting; installations management; human resources management; training and readiness systems; and may also be used to acquire non-developmental, software-intensive programs that are not business systems. [1]
5 Step Business Capability Acquisition Cycle (BCAC) Process:
[1]
Step 1: Capability Need Identification: The objective is to establish a clear understanding of needed business capabilities so that the functional sponsor and Milestone Decision Authority (MDA) can decide to invest time and resources into investigating business solutions.
Step 2: Business Solution Analysis: The objective of this phase is to determine the high-level business processes supporting the future capabilities so that the functional sponsor and CAE or designee can maximize the use of existing business solutions and minimize the creation of requirements that can only be satisfied by a business system.
Step 3: Business System Functional Requirements & Acquisition Planning: An objective of this phase is to establish the acquisition strategy that will support functional requirements.
Step 4: Business System Acquisition Testing & Deployment: The objective of this phase is to achieve organizational change through business process changes and delivery of the supporting business system, with minimal customization.
Step 5: Capability Support: The objective of this phase is to provide enduring support for the capability established by the business system. This includes active engagement in both functional and technical opportunities for continuous process improvement to maintain the relevance of the capability, the supporting technology, and the hosting solution.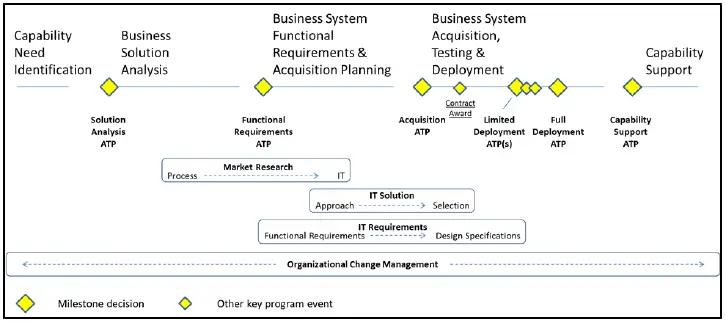 Figure: Business Capability Acquisition Cycle [1]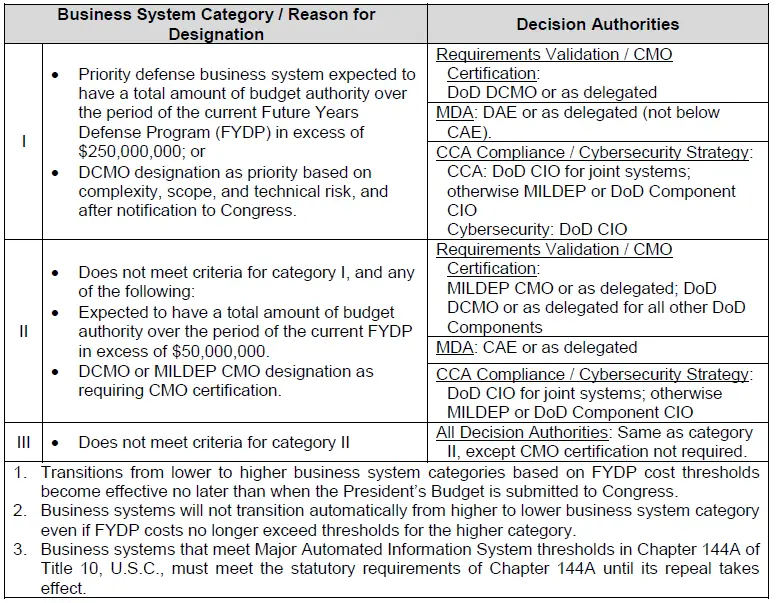 Table: DoD Business System Categories [1]
AcqLinks and References:
Update: 7/7/2021
Rank: G1