The Integrated Master Plan (IMP) is an event-based, top-level plan consisting of a hierarchy of Program Events.  Each event is decomposed into specific accomplishments and each specific accomplishment is decomposed into specific Criteria.  The IMP is ultimately used to develop a time-based Integrated Master Schedule (IMS) to shows a networked, multi-layered schedule showing all the detailed tasks required to accomplish the work effort contained in the IMP. The IMP and IMS related to the Work Breakdown Structure (WBS). The IMP provides a Program Manager (PM) with a systematic approach to planning, scheduling, and execution.
The three (3) elements of the IMP are:
Event: a program assessment point that occurs at the culmination of significant program activities
Accomplishment: is the desired result(s) prior to or at the completion of an event that indicates a level of the program's progress
Criteria: provides definitive evidence that a specific accomplishment has been completed
The IMP provides insight to the PM, contractor, and Program Management Office (PMO) which enables them to: [1]
The five (5) steps in developing the IMP include: [1]
Determine the IMP structure and organization
Identify events, accomplishment and criteria
Prepare the introduction and narrative section
Complete the numbering system
Iterate events, accomplishments and criteria with the Integrated Product Team (IPT) during IMS development
The IMP and IMS are valuable tools a PM can use in preparing for a Request for Proposal (RFP) and Source Selection. It can serves as the basis of an offeror's proposal and evaluation criteria.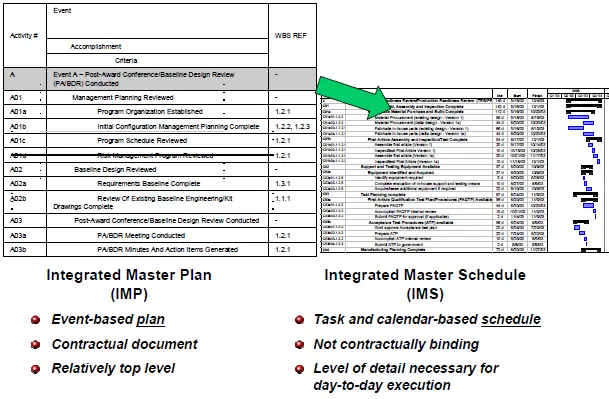 AcqLinks and References:
Updated: 11/3/2020