An Ordering Instrument is a contract type that has already been established. There are many types of ordering instruments available to contracting professionals. These contract types save time, money, and resources. One of the best methods in using ordering contracts is that competition is maintained after the initial competition when an award is made to two or more contracts. The figure below represents a breakdown of the main ordering instruments available to Program Managers (PM) and Contracting Officers.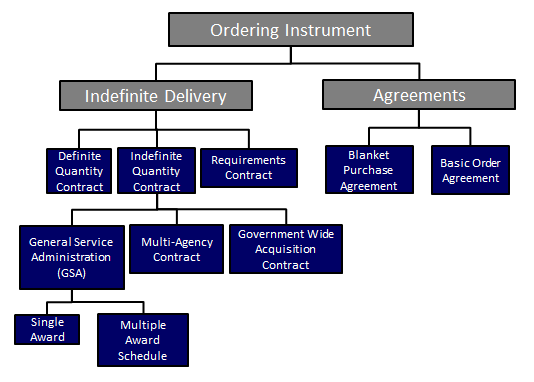 ---
Indefinite Delivery
An Indefinite Delivery Contract (ID/IQ) provides various possible combinations of indefinite elements that provide the desired flexibility to best meet the Government's needs. The appropriate type of indefinite-delivery contract may be used to acquire supplies and/or services when the exact times and/or exact quantities of future deliveries are not known at the time of contract award. The type of contracts available are:
Definite Quantity Contracts
Requirements Contracts
Indefinite Quantity Contracts
General Service Administration (GSA)
The General Services Administration enters into Government-wide contracts with commercial firms to provide commercial products and services, at stated prices, for a given time period. Federal agencies place orders directly to schedule contractors and the contractors make deliveries to the customer.
Single Award
Multiple Award Schedule
Multi-Agency Contract
Multi-Agency Contracts are indefinite-quantity contracts that one agency establishes which can be used but other government agencies to obtain supplies and services, consistent with the Economy Act.
Government-Wide Acquisition Contracts
Government-Wide Acquisition Contracts (GWACs) enable federal agencies to buy cost-effective, innovative solutions for information technology (IT) requirements. GWACs provide access to IT solutions such as systems design, software engineering, information assurance, and enterprise architecture solutions. Small business set-aside GWACs also provide socioeconomic credit.
Agreements
There are two (2) forms of ordering instruments agreements contract types. There are:
Other Transactions Authority (OTA)
The Other Transaction Authority is the term commonly used to refer to the 10 U.S.C. 2371 authority to enter into transactions other than contracts, grants, or cooperative agreements.  The Department currently has temporary authority to award "other transactions" (OTs) in certain circumstances for prototype projects that are directly relevant to weapons or weapon systems proposed to be acquired or developed by the Department.
AcqLinks and References:
Updated: 8/4/2021