The Program Manager (PM) is responsible Configuration Management (CM) on their project or program. CM is the application of sound program practices to establish and maintain consistency of a product's or system's attributes with its requirements and evolving technical baseline over its life. It involves interaction among government and contractor program functions such as systems engineering, hardware/software engineering, specialty engineering, logistics, contracting, and production in an Integrated Product Team (IPT) environment. The program manager should use configuration management to establish and mature the technical, functional and Acquisition Program Baseline throughout the acquisition and system life cycle. [1]
The Program Manager shall assume control of the initial product baseline at the Critical Design Review (CDR) for all Class 1 configuration changes.
CM was first developed by the United States Air Force for the Department of Defense in the 1950s as a technical management discipline of hardware. The concepts of this discipline have been widely adopted by numerous technical management functions, including Systems Engineering (SE), Integrated Logistics Support (ILS), Capability Maturity Model Integration (CMMI), ISO 9000, Prince2 project management methodology, COBIT, Information Technology Infrastructure Library (ITIL), product lifecycle management, and application lifecycle management. [1]
CM activities include:
Identifying, defining, and baselining configuration items
Controlling modifications and releases of configuration items
Reporting and recording status of configuration items and any requested modifications
Ensuring completeness, consistency, and correctness of configuration items
Controlling storage, handling, and delivery of the configuration
Effective CM provides the following essential benefits to a project:
Reduces confusion and establishes order
Organizes the activities necessary to maintain product integrity
Ensures correct product configurations
Limits legal liability by providing a record of actions
Reduces lifecycle costs
Enables consistent conformance with requirements
Enhances compliance with standards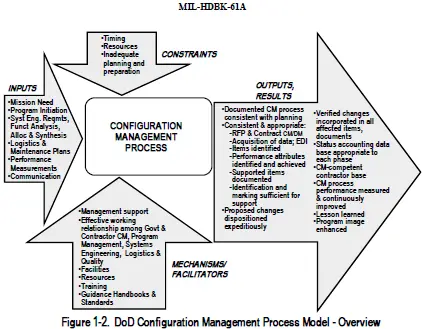 AcqLinks and References:
Updated: 9/01/2017