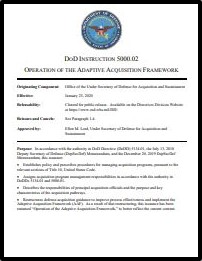 Update: DoD Instruction 5000.02 "Operation of the Adaptive Acquisition Framework" dated 23 January 2020 has been released.
Note: According to Section 1.4 Transition Plan of the new instruction, the old DoDI 5000.02 dated Jan 7, 2015 (Change 3 dated 10 Aug 2017) has been renumbered to DoDI 5000.02T. DoDI 5000.02T will remain in effect, with content removed as it's canceled or transitions to new issuance, as shown in Table 1 of the new DoDI 5000.02. [2]
DoD Instruction 5000.02
DoD Instruction 5000.02 "Operation of the Adaptive Acquisition Framework (AAF)" supports the Defense Acquisition System with the objective of delivering effective, suitable, survivable, sustainable, and affordable solutions to the end-user in a timely manner. To achieve those objectives, Milestone Decision Authorities (MDAs), other Decision Authorities (DAs), and Program Managers (PMs) have broad authority to plan and manage their programs consistent with sound business practice. The Adaptive Acquisition Framework (AAF) acquisition pathways provide opportunities for MDAs/DAs and PMs to develop acquisition strategies and employ acquisition processes that match the characteristics of the capability being acquired. [2]
---
The Defense Acquisition System is directed by DoD Instruction 5000.02T, "Operation of the Defense Acquisition System" dated (Change 3) August 10, 2017. The instruction provides the policies and principles that govern the defense acquisition system and forms the foundation for all DoD programs that include weapon systems, services, and Automated Information Systems (AIS). It establishes a Management Framework for translating user needs and technology opportunities into stable, affordable, and well-managed acquisition programs. The instruction also identifies the specific statutory and regulatory reports and other information requirements for each Milestone and Decision Point. The instruction is published by the Under Secretary of Defense (USD) for Acquisition and Sustainment (A&S). [1]
Table of Content
Purpose
Applicability
Policy
Responsibility
Procedures
Releasability
Effective Date
Enclosures

Acquisition Program Categories and Compliance Requirements
Affordability Analysis and Investment Constraints
Requirements Applicable To All Programs Containing Information Technology (IT)
(Cancelled) Acquisition of Defense Business Systems (DBS)
Cybersecurity in the Defense Acquisition System
AcqLinks: and References:
Updated: 6/6/2021
Rank: G1