A Distributed Product Description (DPD) is a distributed collection of product-centric information that is interconnected via web technology into what appears (to the user) to be a single, combined, logically unified product representation. A DPD is a: [1]
Distributed collection of digital product information
A view of current product state to all program participants throughout all program phases
Composition of:

Product data
Product models
Process models
Other (reference materials, metadata fields, …)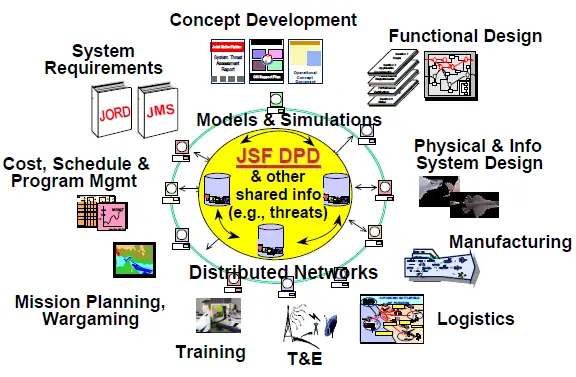 Figure: Distributed Product Description of Joint Strike Fighter (JSF) [1]
The central elements in a DPD collaborative environment authoritatively maintain the system design and behavioral information for alternative designs as needed for Modeling and Simulation (M&S) analyses by all authorized users. In particular, the DPD should possess strong inter-networking capabilities to maintain coordinated system design (structural) and performance views of the system under development. It should incrementally reflect changed performance parameters in response to design changes and address the resulting performance impacts on system operations. [2]
AcqLinks and References: