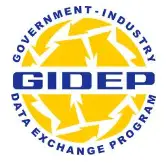 The Government-Industry Data Exchange Program (GIDEP) is a Department of Defense (DoD) program established to promote and facilitate the sharing of technical information between government agencies and industry partners to increase systems safety, reliability, and readiness and to reduce systems development, production, and ownership costs. GIDEP has been designated by OMB Policy Letter 91-3 as the provider of the government's central database for receiving and disseminating information about nonconforming products and materials. [1]

Webpage: GIDEP Home Page
DoD has also designated GIDEP as DoD's Diminishing Manufacturing Sources and Material Shortages (DMSMS) centralized database for sharing DMSMS information among DoD and Industry groups. Funded by the U.S. and Canadian governments, GIDEP membership is open and free to U.S./Canadian government agencies and their industry partners.   Proper utilization of GIDEP data can materially improve the total quality and reliability of systems and components during the acquisition and logistics phases of the life cycle and reduce costs in the development and manufacture of complex systems and equipment.
Any organization that meets one of the following criteria may become a GIDEP member:
U.S. or Canadian industrial organization who supplies items or services (directly or indirectly) to the U.S. Government or to the Canadian Department of Defense
U.S. or Canadian government department, agency, or activity
Licensed U.S. Public Utilities Company
Cost
GIDEP members are not subject to any fees or assessments from GIDEP. Participating members are responsible for their own in-house costs, including labor, equipment, and Internet access.
Provides
GIDEP provides participating members with full access, via computer and modem, to a wide range of technical reports and documents, organized into these general categories: [1]
Engineering Information: Engineering reports, Management reports, Nonstandard Parts reports, Computer Technology reports, Process Specifications reports, Test reports, Soldering Technology Library reports and related engineering data on parts, components, materials and processes, including significant amounts of energy and environmental information.
Failure Experience Information: Text of objective failure reports notifying users of nonconforming parts, components, chemicals, processes, materials, safety and hazardous situations, lessons learned, along with failure analysis results and problem information data resulting from laboratory analyses.
Metrology Information: Detailed calibration procedures for the periodic verification of performance of test, diagnostic, and measurement equipment; technical manuals providing detailed maintenance, repair, and/or operating instructions; and other documents containing metrology data or about measurement science-related topics.
Product Information: Diminishing Manufacturing Sources & Material Shortages notices; notices about processes, parts, components and materials which are being discontinued or changed by the manufacturers; other product information, including alternate sources & aftermarket suppliers.
Reliability & Maintainability (R&M) Information: Documents and reports on the R&M of parts, components, assemblies, equipment, and systems based on operational field performance tests, accelerated laboratory life testing, and R&M demonstration tests plus R&M theories, methodologies, techniques, practices, and procedures such as prediction techniques, Failure Modes and Effects analyses, mathematical models, and reliability growth plans.
Urgent Data Request: Direct queries from GIDEP members needing technical information or experiencing technical problems to the GIDEP community for suggestions and solutions.
AcqLinks and References:
Updated: 6/22/2018