The Program Support Review (PSR) is conducted to provide insight into current and future program execution through detailed analysis using the Defense Acquisition Program Support (DAPS) Methodology. The Office of Secretary of Defense (OSD) Program Support Team applies the DAPS methodology to Major Defense Acquisition Programs (MDAP) and Major Automated Information Support (MAIS) programs approaching a Defense Acquisition Board (DAB) review. A PSR is designed to assist the Program Managers (PM) and systems engineer prepare for Milestone A, B, and C decision reviews.
Guidebook: Defense Acquisition Program Support Methodology – Page 3
The results of a PSR are intended to provide: [1]
The PSR team will use the DAPS methodology in preparation for structuring the scope and focus of review areas of interest. During the reviews, through interviews and discussions, the PSR teams perform the following tasks: [1]
Identify program strengths, problems, risks and other issues,
Categorize and relate the defined findings (triggering vs. symptomatic),
Prioritize these findings with respect to program impact, and
Develop actionable recommendations that address final program findings (focus on root causes).
The team analyzes their PSR findings and briefs and adjudicates the documented results to and with the program managers and prime contractors prior to passing any information forward. The completed report is then forwarded to OSD management to assist with program acquisition decisions.
The PSR process includes the following nine (9) key activities: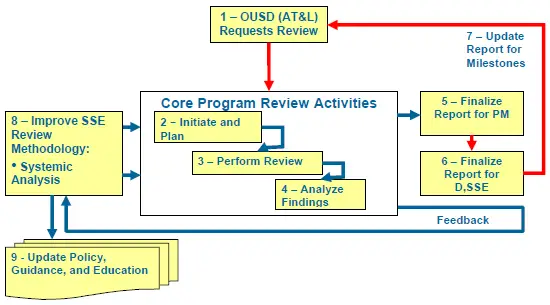 Figure: Defense Acquisition Program Support Methodology Guidebook – Page 4
With the introduction of the Pre-Engineering, Manufacturing & Development (EMD) Review prior to Milestone B, best practice would be to hold the PSR before the Pre-EMD Review to allow the program sufficient time to update key documentation prior to submission for this review. The availability of mature documentation required for the specific milestone event is a key to the success of any PSR. [1]
Program Support Team
The Program Support Team PST is composed of a team leader from SSE/AS and core subject matter expert members from OSD staff (AT&L, CAIG, DPAP, Networks and Information Integration (NII), and Director, Operational Test and Evaluation (DOT&E)). Additional subject matter experts may be recruited from the Services, DoD agencies, Federally Funded Research and Development Centers (FFRDC), and academia based on specific assessment needs matched with individual expertise. [2]
AcqNotes and References:
Updated: 16 July 2017