There are two tests that are performed by the Joint Interoperability Test Center (JITC) to certify and validate a system is ready for operational fielding. These two (2) tests are:
Joint Interoperability Test Certification
Joint Interoperability Test Validation
(1) Joint Interoperability Test Certification
The Joint Interoperability Test Certification is provided by the Joint Interoperability Test Center (JITC) (J-6 = the Organization Designation) upon completion of testing that indicates a system has successfully passed interoperability and Supportability (I&S) testing and has met its Net Ready-Key Performance Parameter (NR-KPP). The certification is issued during the Low-Rate Initial Production (LRIP) of the Production and Deployment phase prior to the Full-Rate Production Decision Review (FRPDR).
Interoperability and Supportability Certification supports the validation and approval of the Capability Development Document (CDD) for Milestone B and the Capability Production Document (CPD) for Milestone C. The Joint Requirements Oversight Council (JROC) actually validates the CDD/CPD prior Milestones B and C.
All Information Technology and National Security Systems (NSS) must be evaluated and certified by JITC prior to (initial or updated) fielding, and periodically during their entire life. The certification is valid for three (3) years from the date of the certification. A system needs to be re-certified if: [1]
There has been modifications to the NR-KPP
Changes to the supportability aspects of the system
Changes to interfacing systems that affect interoperability
Revocation of J-6 Joint Interoperability Test Certifications or System Validation
Non-materiel changes (i.e., DOTMLPF) occur that may affect interoperability
(2) Joint Interoperability Test Validation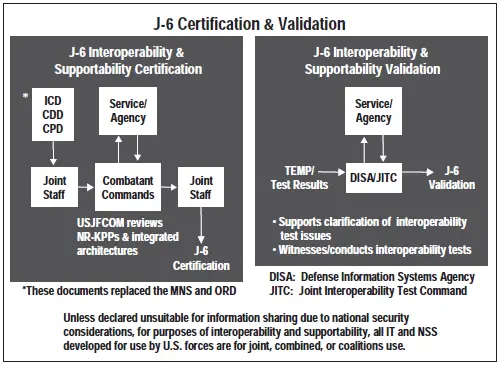 Once the JITC test certification has been issued, JITC J-6 issues the Interoperability System Validation indicating that the entire process is complete.
AcqLinks and References:
Updated: 8/4/2021