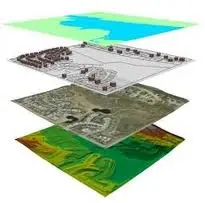 Geospatial information is information describing the location and names of features beneath, on or above the earth's surface. At its simplest this can mean the basic topographical information found on a map, but also includes different location-related datasets combined into complex layers that show information such as land use and population density.  It supports a wide range of business, government and community activities, and the use and re-use of this information has significant productivity-related benefits.
Geospatial analysis is an approach to applying statistical analysis and other informational techniques to data which has a geographical or geospatial aspect. Such analysis would typically employ software capable of geospatial representation and processing, and apply analytical methods to terrestrial or geographic datasets, including the use of geographic information systems and geomatics. [1]
Geospatial analysis, using Geographical Information Systems (GIS), was developed for problems in the environmental and life sciences, in particular ecology, geology and epidemiology. It has extended to almost all industries including defense, intelligence, utilities, Natural Resources (i.e. Oil and Gas, Forestry etc.), social sciences, medicine and Public Safety (i.e. emergency management and criminology). Spatial statistics typically result primarily from observation rather than experimentation. [1]
Geospatial Resources:
AcqLinks and References: