A Force Field Analysis (FFA) provides a framework for looking at the factors (forces) that influence a situation.  It looks at forces that are either driving movement toward a goal (helping forces) or blocking movement toward a goal (hindering forces). FFA is a concept that was developed by Kurt Lewin in 1943 as a method by which to analyze situations. [1]
Program Managers (PM) can use a Force Field Analysis to help determine the best approach to a situation. It can strengthen the forces supporting a decision and reduce the impact of opposition to it.
Below is an example of a FFA where the "force for change" were placed in the left column, and the "forces against change" were placed in the right column.  It provides a visual representation of which factors are working against a desired outcome. A "proposal for change" is placed in the middle of the forces.
There are three (3) steps to the analysis:
Describe your plan or proposal for change in the middle
List all forces for change in one column, and all forces against change in another column
Assign a score to each force, from 1 (weak) to 5 (strong).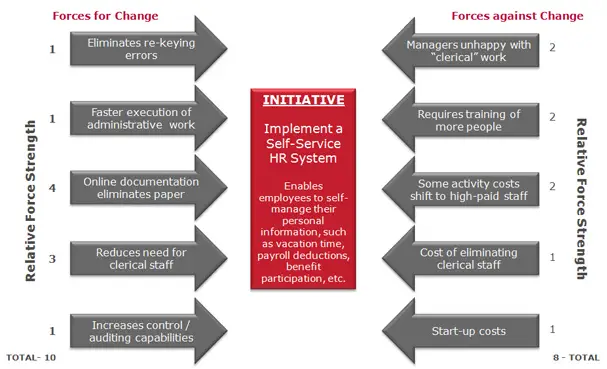 AcqLinks and References:
Updated: 7/16/2017