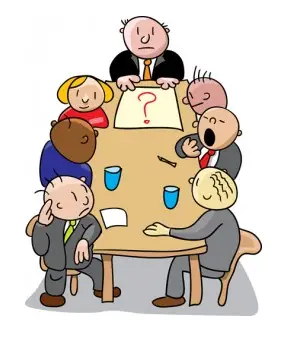 An Effective Meeting is one where its objectives were accomplished within the stated timeframe. Executing an effective meeting is an important part of a Program Managers (PM) job. Being prepared is the most effective way to have a successful meeting.
Below are some tips to running an effective meeting:
Decide if a meeting is needed and invite only the necessary people: Don't waste people's time on unproductive meetings where they lose motivation.
Define the goals of the meeting: Everyone should understand what should be accomplished from the meeting.
Have an Agenda: Before the meeting even begins, make sure everyone understands the objectives by writing an agenda.
Require everyone to come prepared by asking them pre-questions: Make people come prepared. If you've asked people to do some kind of homework and they haven't done it, stop and reschedule the meeting. It won't pay to continue, and meanwhile you'll send a strong message that preparation is not optional.
Take charge and keep your meeting moving forward: Good meetings are products of good leadership. Take charge and make it clear that you intend to keep the discussion timely, useful, and relevant. Begin by writing the meeting goal on the whiteboard to remind everyone why they're there.
Get the constructive input you need from everyone present: Since the point of a meeting is two-way communication, it's crucial to get honest input from everyone. Successful companies know that disagreement and debate are healthy signs of a passionate work force. No one should feel afraid to say what they really think, and no one person or group should dominate the discussion.
Stay on Topic: Make sure the meeting addresses each topic one at a time. Specify the topic, presenter, and amount of time to be devoted.
Close with a Plan of Action: Close the meeting with a review of what decisions you reached and what the next action will be. Everyone should leave knowing what's expected of them and when by the end of the week, the end of the cycle, or the next meeting. End by asking everyone whether they thought the meeting was useful and, if not, what could be done better next time.
After the Meeting: Review and publish meeting minutes.
AcqLinks and References:
Updated: 7/16/2017