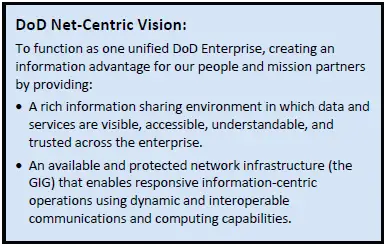 The Defense Information Enterprise Architecture (DIEA) provides a common foundation to support the Department of Defense (DoD) transformation to net-centric operations and establishes priorities to address critical barriers to its realization. It comprises the information, information resources, assets, and processes required to achieve an information advantage and share information across the DoD and mission partners. It also describes the integrated DoD Information Enterprise and the rules for the information assets and resources that enable it. DIEA will enable decision-makers to have informed discussions on the key issues driving the evolution of DoD's net-centric environment. [1]
The DoD Information Enterprise Architecture v1.0 highlights the key principles, rules, constraints and best practices drawn from collective policy to which applicable DoD programs must adhere in order to enable agile, collaborative net-centric operations. In today's information environment the DIEA rules apply within the persistently-connected Internet Protocol (IP) boundaries of the Global Information Grid (GIG). Outside of these boundaries, the principles still should be considered, but the rules of the DIEA must yield to the state of technology, and the needs and imperatives of the Department's missions. [1]
See DoD Website: DoD Information Enterprise Architecture
The DIEA is part of the organizing construct of the DoD Information Enterprise and DoD Enterprise Architecture.
DIEA Priorities: [2]

Data and Services Deployment (DSD): Decouple data and services from the applications and systems that provide them, allowing them to be visible, accessible, understandable and trusted. Lay the foundation for moving the DoD to a Service-Oriented Architecture (SOA).
Secured Availability (SA): Ensure data and services are secured and trusted across DoD. Allow users to discover data and services and access them based on their authorization.
Computing Infrastructure Readiness (CIR): Provide the necessary computing infrastructure and related services to allow the DoD to dynamically respond to computing needs and to balance loads across the infrastructure.
Communications Readiness (CR): Ensure that an evolvable transport infrastructure is in place that provides adequate bandwidth and end-to-end, seamless net-centric communications capability across all GIG assets.
NetOps Agility (NOA): Enable the continuous ability to easily access, manipulate, manage and share any information, from any location at any time.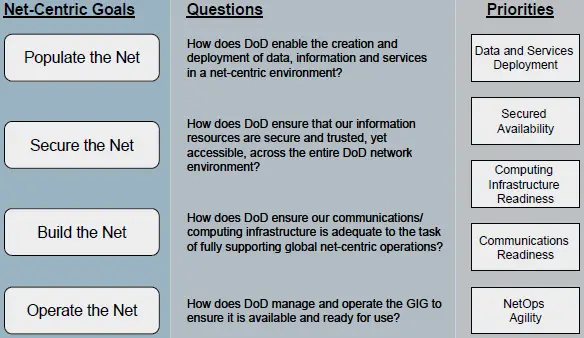 DIEA Background: Title 40 U.S.C. Section 1425: Develop, maintain, and facilitate the implementation of a sound and integrated information technology architecture for the executive agency.
AcqLinks and References:
Updated: 1/04/2018