A Contract Closeout occurs when a contract has met all the terms of a contract and all administrative actions have been completed, all disputes settled, and final payment has been made. This includes those administrative actions that are contractually required; i.e. property, security, patents, and royalties.
Contract Closeout Procedures
The procedures for contract closeout are located in Federal Acquisition Regulation (FAR) 4.804-5.
Contract Closeout Checklist
Below is the checklist for administrative actions that are required to close out a contract that has met all its terms and conditions.
Issue interim contract completion statement
Ensure disposition of classified material is completed
Receive final patent/royalty report clearance
Ensure there are no outstanding value engineering change proposals
Ensure property clearance is recorded in MOCAS
Receive and file plant clearance report
Settle all interim or disallowed costs
Complete price revision
Ensure Prime contractor has settled Subcontracts
Settle prior year indirect cost rates
Ensure submission of final subcontracting plan report
Complete termination docket
Completed contract audit
Ensure receipt of contractor's closing statement (release)
Review/submit contractor's final invoice/voucher
Ensure the final voucher has been paid
Complete contract funds review and deobligate excess funds
Contract Closeout Timeframe
The standard timeframes for closing out are located in FAR 4.804.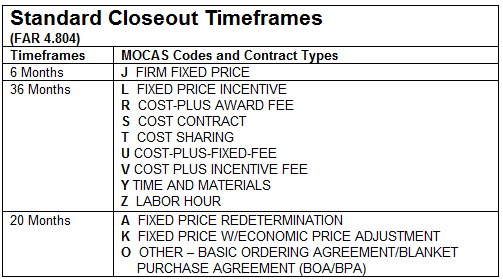 Contract Closeout Retention Periods
Records
Retention Period
(1) Contracts (and related records or documents, including successful and unsuccessful proposals, except see paragraph (c)(2) of this section regarding contractor payrolls submitted under construction contracts).
6 years after final payment.
(2) Contractor's payrolls submitted under construction contracts in accordance with Department of Labor regulations (29 CFR 5.5(a)(3)), with related certifications, anti-kickback affidavits, and other related records.
3 years after contract completion unless contract performance is the subject of an enforcement action on that date (see paragraph (c)(8) of this section).
(3) Unsolicited proposals not accepted by a department or agency.
Retain in accordance with agency procedures.
(4) Files for canceled solicitations.
6 years after cancellation.
(5) Other copies of procurement file records used for administrative purposes.
When business use ceases
(6) Documents pertaining generally to the contractor as described at 4.801(c)(3)
Until superseded or obsolete.
(7) Data submitted to the Federal Procurement Data System (FPDS). Electronic data file maintained by fiscal year, containing unclassified records of all procurements exceeding the micro-purchase threshold, and information required under 4.603.
6 years after submittal to FPDS
(8) Investigations, cases pending or in litigation (including protests), or similar matters (including enforcement actions).
Until final clearance or settlement, or, if related to a document identified in paragraphs (c)(1) through (7) of this section, for the retention period specified for the related document, whichever is later.
FAR 4.805.4(c)
AcqLinks and References:
Updated: 6/22/2021
Rank: G1