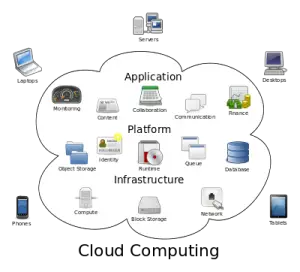 Cloud computing is a recently evolved computing terminology or metaphor based on utility and consumption of computing resources. Cloud computing involves deploying groups of remote servers and software networks that allow centralized data storage and online access to computer services or resources.
"Cloud computing is a model for enabling ubiquitous, convenient, on-demand network access to a shared pool of configurable computing resources (e.g., networks, servers, storage, applications, and services) that can be rapidly provisioned and released with minimal management effort or service provider interaction." – National Institute of Standards and Technology (NIST)
Cloud computing technology and services provide the Department of Defense (DoD) with the opportunity to deploy an Enterprise Cloud Environment aligned with Federal Department-wide Information Technology (IT) strategies and efficiency initiatives, including federal data center consolidation. Cloud computing enables the Department to consolidate infrastructure, leverage commodity IT functions, and eliminate functional redundancies while improving continuity of operations. The overall success of these initiatives depends upon well executed security requirements, defined and understood by both DoD Components and industry. Consistent implementation and operation of these requirements assures mission execution, provides sensitive data protection, increases mission effectiveness, and ultimately results in the outcomes and operational efficiencies the DoD seeks. [1]
Federal Risk and Authorization Management Program (FedRAMP) is a Federal Government program focused on enabling secure cloud computing for the Federal Government.
AcqLinks and References:
Updated: 6/11/2018