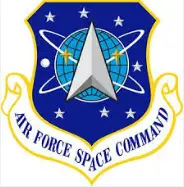 Air Force Space Command (AFSPC) is a major command of the United States Air Force, with its headquarters at Peterson Air Force Base, Colorado. AFSPC supports U.S. military operations worldwide through the use of many different types of satellite, launch and cyber operations. Operationally, AFSPC is under the Combatant Commander of the U.S. Strategic Command. [2]
AFSPC Vision
Global Access, Persistence and Awareness for the 21st Century
AFSPC Mission
Provide Resilient and Cost-Effective Space and Cyberspace Capabilities for the Joint Force and the Nation   AFSPC claims its activities make space reliable to United States warfighters (i.e. forces personnel) by assuring their access to space. AFSPC's primary mission areas: [2]
Space forces support involves launching satellites and other high-value payloads into space using a variety of expendable launch vehicles and operating those satellites once in the medium of space.

Space control ensures friendly use of space through the conduct of counterspace operations encompassing surveillance, negation, protection and space intelligence analysis.

Force enhancement provides weather, communications, intelligence, missile warning, and navigation. Force enhancement is support to the warfighter.
Units that are a part of AFSPC reside at:
Buckley AFB

Los Angeles AFB

 Space and Missile Systems Center (SMC)

Patrick AFB

Peterson AFB

Robins AFB

Schriever AFB

Scott AFB

Vandenberg AFB
Space systems that AFSPC Controls are:
Advanced Extremely High Frequency System

Defense Meteorological Satellite Program

Defense Satellite Communications System

Defense Support Program

Early Warning Radar

Ground-Based Electro-Optical Deep Space Surveillance

Global Broadcast Service (GBS) Joint Program

Global Positioning System

Milstar Satellite Communications System

PAVE PAWS Radar System

Space Based Infrared Systems

Space Based Space Surveillance (SBSS)

Wideband Global SATCOM Satellite
AcqLinks and References: