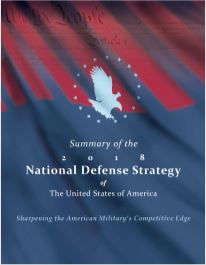 The National Defense Strategy (NDS) is used in the PPBE Process to establish the objectives for the plans for military force structure, force modernization, business processes, supporting infrastructure, and required resources (funding and manpower).  Along with the Joint Capabilities Integration and Development System (JCIDS) Process, the NDS plays a key role in identifying the capabilities required by the warfighters to support the National Security Strategy (NSS). [1]
The NDS serves as the DoD's capstone document in this long-term effort. It flows from the National Security Strategy (NSS) and informs the National Military Strategy (NMS). It also provides a framework for other DoD strategic guidance, specifically on campaign and contingency planning, force development, and intelligence. It reflects the results of the Quadrennial Defense Review (QDR) and lessons learned from on-going operations in Iraq, Afghanistan, and elsewhere. It addresses how the U.S. Armed Forces will fight and win America's wars and how we seek to work with and through partner nations to shape opportunities in the international environment to enhance security and avert conflict.
The NDS describes our overarching goals and strategy. It outlines how DoD will support the objectives outlined in the NSS, including the need to strengthen alliances and build new partnerships to defeat global terrorism and prevent attacks against us, our allies, and our friends; prevent our enemies from threatening us, our allies, and our friends with weapons of mass destruction (WMD); work with others to defuse regional conflicts, including conflict intervention; and transform national security institutions to face the challenges of the 21st century. The NDS acts on these objectives, evaluates the strategic environment, challenges, and risks we must consider in achieving them, and maps the way forward.
National Defense Strategy (NDS) Goals
[1]
To restore America's competitive edge by blocking global rivals Russia and China from challenging the U.S. and our allies.
To keep those rivals from throwing the current international order out of balance.
National Defense Strategy (NDS) Objectives

[1]
Defending the homeland from attack;
Sustaining Joint Force military advantages, both globally and in key regions;
Deterring adversaries from aggression against our vital interests
Enabling U.S. interagency counterparts to advance U.S. influence and interests;
Maintaining favorable regional balances of power in the Indo-Pacific, Europe, the Middle East, and the Western Hemisphere;
Defending allies from military aggression and bolstering partners against coercion, and fairly sharing responsibilities for common defense;
Dissuading, preventing, or deterring state adversaries and non-state actors from acquiring, proliferating, or using weapons of mass destruction;
Preventing terrorists from directing or supporting external operations against the United States homeland and our citizens, allies, and partners overseas;
Ensuring common domains remain open and free;
Continuously delivering performance with affordability and speed as we change Departmental mindset, culture, and management systems; and
Establishing an unmatched twenty-first century National Security Innovation Base that effectively supports Department operations and sustains security and solvency.
Where the National Defense Strategy (NDS) fits into the PPBE Process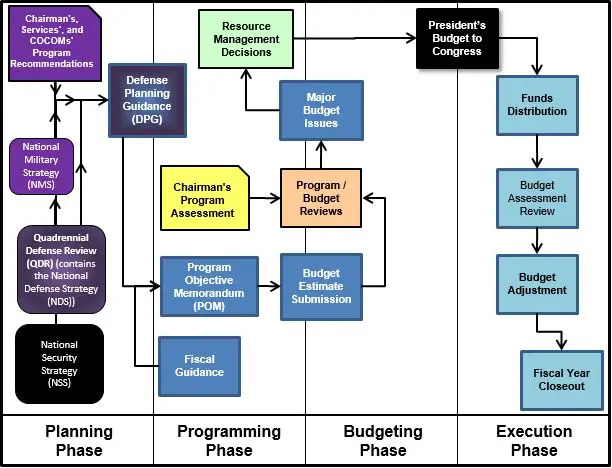 Figure: Planning Phase of the PPBE Process
AcqLinks and References:
Updated: 7/3/2021