Update: The CPD has been eliminated from the JCIDS process
The Capability Production Document (CPD) captures the information necessary to support production, testing, and deployment of an affordable and supportable increment within an acquisition strategy. The CPD identifies, in threshold/objective format, the specific attributes that contribute most significantly to the desired operational capability. The CPD is prepared during the Engineering & Manufacturing Development (EMD) Phase to guide the Production and Deployment phase after the Critical Design Review (CDR) and is used to measure the contractor's delivery. The CPD is required for the Milestone C Review and must be certified prior to a program proceeding into the Production and Development (PD) Phase.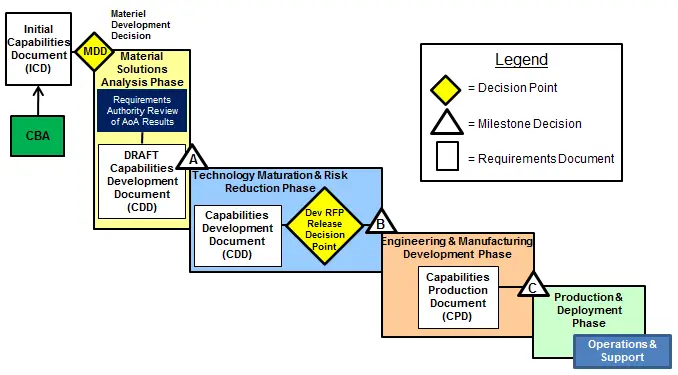 Figure: CPD in the Acquisition/JCIDS Process
The CPD addresses the production elements specific to a single increment of an Evolutionary Acquisition program.  The refinement of performance attributes and Key Performance Parameters (KPPs) is the most significant difference between the Capability Development Document (CDD) and CPD.  A program with multiple increments will have a CPD for each increment.
JCIDS Manual required CPD Format:
Executive Summary
Capability Discussion
Analysis Summary
CONOPS Summary
Threat Summary
Program Summary
System Capabilities Required for the Current Increment
FoS and SoS Synchronization
IT and NSS Supportability
E3 and Spectrum Supportability
Technology Manufacturing Readiness Assessment
Assets Required to Achieve Full Operational Capability (FOC)
Schedule and Initial Operational Capability (IOC) and FOC Definitions
Other DOTMLPF and Policy Considerations
Other System Attributes
Program Affordability
The Capability Development Tracking and Management (CDTM) tool is provided as a means to generate and submit ICDs, CDDs, CPDs, and Joint DCRs to the Knowledge Management/Decision Support (KM/DS) system.
REGULATORY: If there are no changes, a revalidated CDD may satisfy this information requirement. An equivalent DoD Component-validated requirements document will satisfy this requirement for certain information systems; the equivalent documents are finalized after Milestone B, to support deployment. [1]
AcqTips:
The format for the CPD is found at Appendix A to Enclosure G of Manual for the Operation of the Joint Capabilities Integration and Development System.
The CPD replaced the Operational Requirements Document (ORD) update (that was used for the Production Decision) under the old Requirements Generation System.
AcqLinks and References:
Updated: 2/12/2020