Rapid / Adaptive Acquisitions
The Rapid Acquisition Process (RAP) provides quicker procurement for the development and fielding of highly successful competitive prototypes, experiments and demonstrations. It addresses the approach, assessment, validation, sourcing, resourcing, and fielding of operationally driven urgent needs. It supports the specific DoD goal of significantly shortening the acquisition response time and acquisition cycle times.
Adaptive Acquisition Framework Methods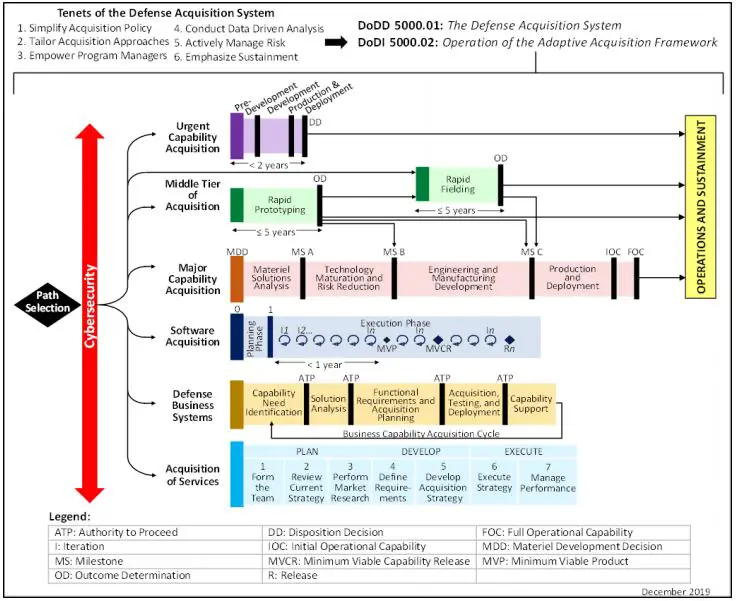 Figure: DoD Instruction 5000.02 "Operations of the Adaptive Acquisition Framework"
Urgent Capability Acquisitions:

Need identified by Commanders involved in an ongoing contingency operation or emergent need.

Rapid Middle-Tier Acquisitions:

P

rograms that are intended to be completed in a period of 2-5 years via two acquisition pathways.

Major Capability Acquisition (Tailorable): Execute to the standard defense acquisition model with modifications.
Software Acquisitions:

To facilitate rapid and iterative delivery of software capability to the user.

Defense Business System:

 Business systems are information systems that are operated by, for, or on behalf of the DoD.

Acquisition of Services:

Acquisition of contracted services from private sector entities by or for the DoD. 
Prototyping & Experiments
Early Prototyping: Technology or capability that is being matured by the research laboratories.
10 USC 2373: Procurement for Experimental Purposes:  Rapid acquisition tool for fielding and testing new capabilities
Below is a list of contract methods that can be used to perform Rapid Acquisitions:
Method

Acquisition Authority
Decision Authority
Procure Defense Services
DODI 5000.74
SAE or Designee
Weapons System Procurement
DODI 5000.02
MDA
Section 803
MDA equivalent to ACAT Level
Section 805
MDA equivalent to ACAT Level
Rapid Middle Tier Prototyping
Section 804 – Rapid Prototyping
MDA equivalent to ACAT Level
Section 804 – Rapid Fielding
MDA equivalent to ACAT Level
Section 806 – Weapon Component Prototyping or Technology
Selected by SAE after oversight Board Reviews
Early Prototyping
DODI 3201.01
Rapid Experiments
10 USC 2373
MDA: Milestone Decision Authority; ACAT: Acquisition Category; SAE: Service Acquisition Executive

AcqLinks and References:
Updated: 4/7/2020