PPBE Process
Program Objective Memorandum
A Program Objective Memorandum (POM) is a recommendation from the Services and Defense Agencies to the Secretary of Defense concerning how they plan to allocate resources for a program(s) to meet the Service Program Guidance (SPG) and
Defense Planning Guidance (DPG)
. The POM covers the 5-year
Future Year Defense Program (FYDP)
and presents the Services and Defense Agencies proposal on how they will balance their allocation of available resources. The POM is submitted each August and includes an analysis of missions, objectives, alternative methods to accomplish objectives, and allocation of resources.
A programs initial POM is developed during the
Materiel Solutions Analysis (MSA) Phase
. The
Initial Technical Review (ITR)
is a technical review conducted during the MSA Phase to support a program's initial POM submission.
POM Review
The POM is reviewed by program review teams comprising members from the military departments, Joint Chiefs of Staff (JCS), defense agencies, and OSD staff. The results of this review are presented to the Senior Level Review Group (SLRG) for discussion. In addition, the Joint Chiefs conduct a concurrent checks-and-balances review of POM, focusing on the balance and capabilities of the proposed forces levels. Both reviews are presented to the Secretary of Defense prior to his/her decisions in the
Program Decision Memoranda (PDM)
.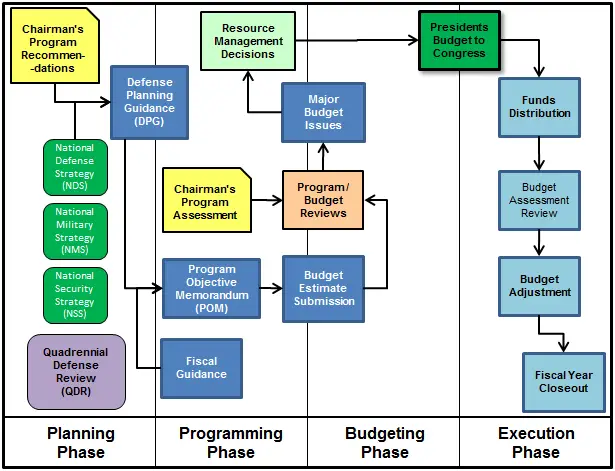 The POM cannot be disclosed outside of DoD and other Government Agencies directly involved in the defense planning and resource allocation process.
AcqLinks and Reference:
-
Defense Acquisition Guidebook (DAG) - Chapter 1.2
-
CJCSI 8501.01A "Chairman of the Joint Chief of Staff, Combatant Commanders, and Joint Staff Participation in the PPBE Process"